We just got our Henry navigator last week, so we decided to try him out, and went for a day trip to Strasbourg, even though it looked like rain in the morning. Henry was not deterred though, and bravely got on with the route. He was really good at it too, knowing all kinds of detail and what's going on in the world. Unfortunately, the cigarette lighter in the car did not work so he was not getting juice, and by the time we got to the parking, he was practically dying.
Anyway, he got us to an award-winning parking lot right in the centre (yes, the award was on display there! you could study it whilst listening to nice soothing sea-sound music that was playing in the corridors to repel homeless people and junkies from inhabiting the lot, thanks to which it did not smell of piss, and totally did deserve the award just for that. The disturbing imagery on the walls was probably there for the same reason.). From there dear Henry gave it a shot to get us to the nearest tourist information centre, but died on the way completely. Fortunately, it was very easy to find just by the cathedral.
The cathedral was just like any other, I wanted to buy a Jesus fridge magnet, but Iest did not let me. It had a nice big organ inside, and funky windows.
On the outside, the cathedral has elaborate decorations, for example this statue of Rudolph von Habsburg, which is weirdly and unsettlingly out of proportion with his legs looking quite midget-like; however, the schlong of the horse is proper.
The weather was nothing special but at least it was not raining, so we marched on. Strasbourg turned out to have many pretty houses, with cute rooftops and flowers and tiny stores, and was generally pretty nice for a walk. Unlike Freiburg, Strasbourg is also a town with a little bit of edge, hidden nastiness, immigration tensions, and Hotel Central. Good thing that they are selling Hattori Hanzo swords everywhere, the locals probably need them often.
This is me in front of what our little guide calls the prettiest house of Strasbourg, La Maison Kammerzell.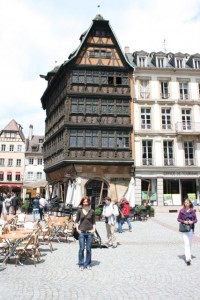 We had a lunch at a little creperie with yum crepes, but grossly incompetent service, which saved us money on tips.

Altogether, it was a fun day, and the weather was not nearly as bad as what it looked like in the morning. We had a little bit of a problem getting out of there, as Henry was dead and we did not really remember any rout names, but we managed quite well at the end.
Tags: France, Henry, La Maison Kammerzell., prettiest house of Strasbourg, Rudolph von Habsburg, Strasbourg